Welcome to the hub of Dynamax medicine ball exercises and workouts; the perfect place for fitness motivation!
Here, you'll find tips, drill ideas and creative exercises that'll help you improve your muscle growth, cardiovascular health, balance and strength. You'll break a sweat in style with these innovative med ball workouts, so prepare to push your body and mind to the max.
Explore our range of medicine ball workouts and exercises below to get all-around results from a fitness routine that challenges and excites!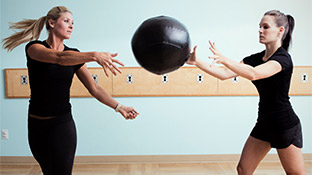 Medicine Ball Training Basics
Got Dynamax medicine ball training questions? Click here to learn when a ball becomes a medicine ball and to learn the value of movement-based training. See how heavy you should go when buying new Dynamax med balls!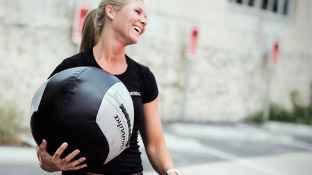 Medicine Ball Exercises & Drills
Get the most out of your med ball with Dynamax medicine ball exercises and drills. Learn about the different medicine ball workouts available and discover the proper technique for each. Watch our medicine ball workout videos to see athletes properly performing a wide variety medicine ball exercises and take your workouts #ToTheMax!
Dynamax Performance Centers
There are a number of Dynamax-authorized performance centers in the US and Europe that can help you achieve your fitness goals. Click here to find a Dynamax-authorized center or program in your region and join a community of fitness enthusiasts who push each other to achieve more.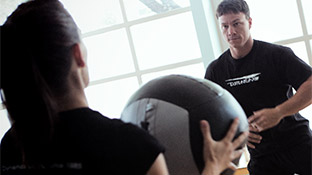 The Dynamax Coach Course
The Dynamax Coach Course provides high-velocity medicine ball training for individuals, groups and athletes. Discover how Dynamax medicine balls can be used to train 10 physical skills and see how revolutionary programming can transform your fitness routine today!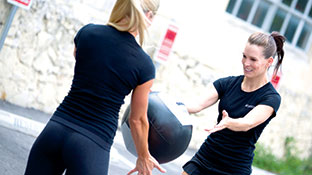 Find a Dynamax Coach
Looking for a Dynamax coach or instructor in your region? Search our list of trainers in the US and Europe who have completed our educational courses and programs. Team up with a coach who eats, sleeps and breathes the Dynamax brand!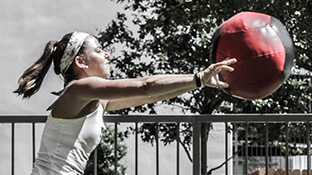 Master Trainers
Ready for the ultimate test? Partner with a Dynamax Master Trainer to push yourself harder than ever before. With master trainers in both the US and Europe, you won't struggle to find the perfect coach to help you achieve greatness both in and out of the gym.
Dynamax Blog
Want to learn which medicine ball is the best for your fitness goals? Or what new fitness trends are taking over gyms? Keep up to date with recent news, events and fitness tips with the Dynamax blog.
Where Can I Complete a Med Ball Workout?
Whether you are just starting out or looking to take your training to the next level, this unique piece of gym equipment can be used anywhere, at any time. Conquer a medicine ball workout at the gym, in the locker room or outside in the park. You can always run through medicine ball exercises at home or complete one while travelling for business or pleasure. In fact, you can even complete Dynamax med ball exercises on the beach!
Regardless of where you decide to break a sweat, expect to throw, catch and lift your medicine ball during a med ball workout. You'll want to choose a weight that allows you to garner speed and power without compromising your form, so place your order wisely.
Can Medicine Balls Be Slammed?
This is a question that we're commonly asked. Because one of the more traditional exercises to perform with a medicine ball is a slam, we understand why you may wonder if slams are encouraged or discouraged. The truth is that slamming our med balls can actually damage your ball's infrastructure, potentially misshaping your ball as a result. To avoid this, it's now part of our Dynamax warranty to void your warranty should damage occur to your med ball by slamming. We highly encourage performing wall balls and medicine ball tosses instead.
Did You Know?
The Strength and Conditioning Journal researched the benefits of medicine ball training in rotational power sports and found that med ball exercises actually stimulate tissues that go unused in typical strength and conditioning programs. If that isn't cool enough, they also found that medicine ball throws are outstanding resistance training exercises. Want to put that research to the test? Buy a Dynamax medicine ball now!