Bilateral Chest Pass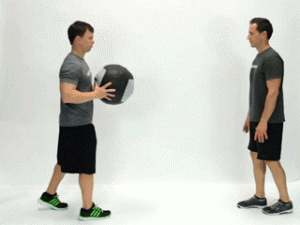 CLICK ABOVE IMAGE TO VIEW VIDEO
The Coach begins by passing the ball into the athlete's outstretched arms.
The athlete brings the ball to their chest while taking a step and simultaneously leaning back, placing a stretch on the trunk.
As the lead foot touches the ground the athlete begins the throwing action, driving off the lead leg and following through.
If space allows the athlete should continue making forward progress while switching the lead leg between throws.