Medicine Balls
for CrossFit
Medicine Balls
for CrossFit
Favored and loved by many boxes around the world, our range of balls feel right at home at any CrossFit box, helping you get the most out of your exercises. Our leather medicine balls for CrossFit are engineered to maximize your workout, facilitate with every movement, and suit the superset or HIIT set you have in store for your WOD.
Any size, any weight - we have the perfect medicine ball for your CrossFit training regime. For your everyday workouts, we recommend our Standard Medicine Ball or Mini Medicine Ball, depending on what weight you feel comfortable working AMRAP with. If you're a #BigBaller and like a challenge, our newly introduced Atlas Balls could be exactly what you've been looking for.
Personalized Medicine Balls
Create a set of custom medicine balls with your CrossFit boxes name and logo to add the final touch to your new facility.
CrossFit Medicine Ball Exercises
Train like an athlete with our range of CrossFit medicine balls. Browse our library of training basics, exercises, drills and even our Atlas Project, designed to build strength and confidence with our Atlas Medicine Ball. It's time to take it #ToTheMax.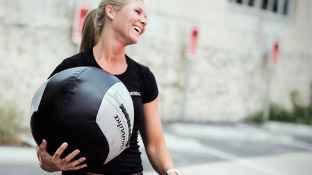 Try some of the most popular medicine ball exercises around. You will find descriptions as well as photos and videos showing you how these exercises should be executed.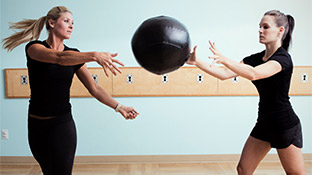 Medicine Ball Training Basics
Answering all of your CrossFit and medicine ball training questions from choosing the right equipment and weight to the value of movement-based training.
Show you've #GotBalls and throw in one of Jeremy Shore's killer Atlas Medicine Ball exercises into your WOD. It's balls to the walls time. Literally.
American made. Athlete approved. Dynamax has created the ultimate medicine balls for CrossFit training and day-to-day working out. We are a community with a passion to make each member stronger, faster, healthier, smarter and happier than they were when they woke up in the morning.
Are you ready to join the #TeamDynamax? Click here to choose from a range of styles and colours to suit your style and show off your new medicine ball.